"Instill" at Gallery Hijinks in San Francisco
June 5th, 2012 posted by Yellena
I've just returned home to Portland from my trip down to San Francisco for the opening of my new show, Instill, at Gallery Hijinks.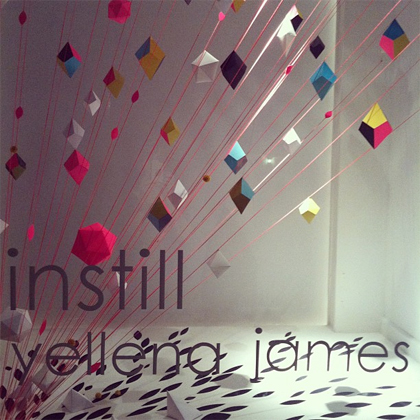 It's been a while since I've posted anything on my blog, and a LOT has happened since my last post.  As a rule, when I get silent on here, it means that I am either traveling or working very hard, or more often both.  I am incredibly pleased with the way this show came together. I had so much fun at the opening and I got to see & meet so many amazing people.  I have 19 pieces in this new collection, including a 58″ x 42″ drawing mounted on wood panel.  It's been a work in progress for a couple of years and I'm so happy I finally get to see it up on the wall.  The gallery is working on a photo/video feature on this piece, so I'll follow up soon with that.  It's called "Immerse."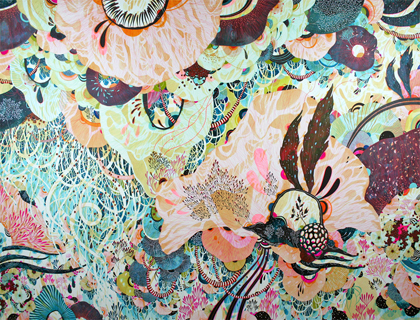 "Immerse" 58 x 42, Pen & Ink on paper mounted on wood panel
I also did an installation in the front windows of the gallery using primarily paper & string.  It's my first installation attempt and now I can't wait to experiment more with 3D.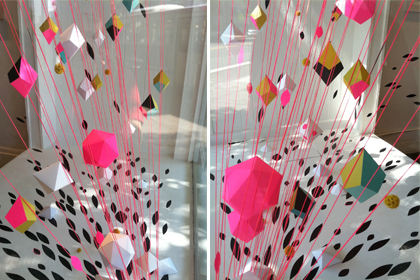 Besides my installation and the highly-detailed oversized drawing, I also experimented with some new colors and styles. Here are some pieces I did on paper, where I started adding more geometric elements among my signature organic shapes.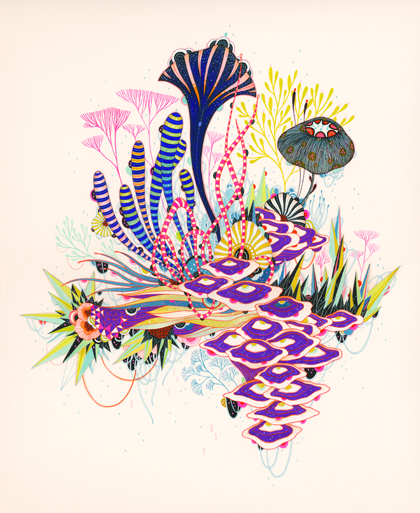 "Radiance" 11 x 14, pen & ink on paper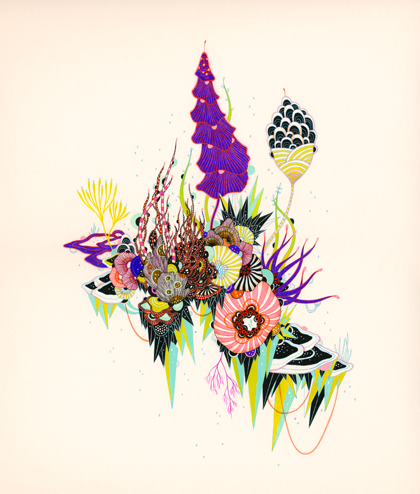 "Entice" 11 x 14, pen & ink on paper
I also added darker backgrounds to some of my pieces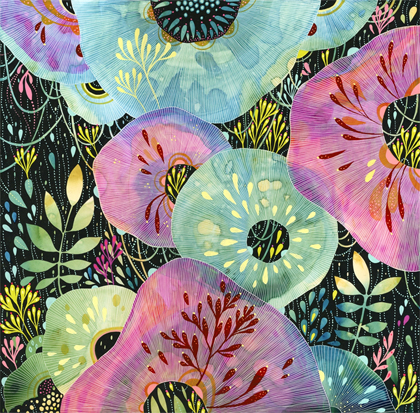 "Crush" 12 x 12, pen & ink and gouache on clayboard
All-in-all, it was another wonderful trip down to California for me. The weather was almost as beautiful as the people I got to spend time with, and San Francisco remains one of my favorite places on earth. I even showed up for the first time in the city's historic paper, the San Francisco Chronicle!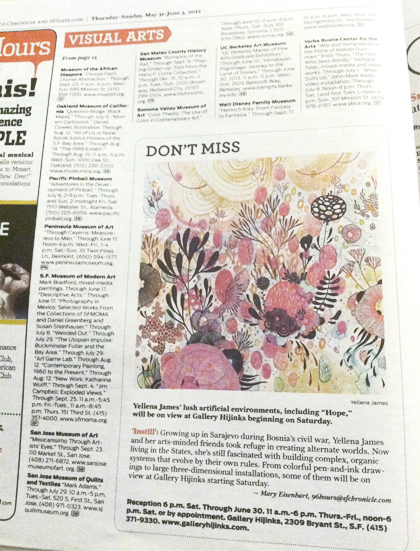 Many many thanks again to my hosts, Jillian and Joe from Hijinks, all of the people who purchased artwork, and everyone else who took the time and made it out to the opening. Thank you all for such a wonderful trip.